We recently published an article about the best Instagram tools of 2018 and top of that list was Upleap. Upleap helps users grow their Instagram faster with a dedicated account manager. Since Upleap made it as the number one Instagram tool to use in 2018, we decided our Upleap Instagram review would be interesting for readers!
If you're only interested in our final verdict, skip through to the end of our article. As a quick spoiler, we gave this tool highest marks. Otherwise, discover why we think Upleap is the number 1 Instagram tool in 2018:
Upleap Instagram Review – What is Upleap?
Upleap helps regular users, influencers and brands grow their Instagram faster. To achieve this, Upleap uses human account managers to help grow the number of followers your account gets every day. How Upleap grows your Instagram is through organic engagement.
What engagement actually meant is made pretty clear on their website – your Instagram account manager likes posts and videos on behalf of you. While this sounds pretty plain, it's a common Instagram growth tactic that we've come across and covered in our article about growing your Instagram in our triple like strategy.
Liking posts is also a comes part and parcel with Instagram engagement pods (learn more about them here). After a quick back and forth with Upleap's support staff, Upleap told us that their service doubles up as an engagement pod. Because of this, Upleap grows your Instagram in four ways:
Get more impressions on your Instagram profile (meaning more people notice you)
You should receive more likes on your posts
More people should watch your Instagram Stories
Get more followers on your Instagram
So, having these four points in mind, we put Upleap to the test. I hooked up four accounts that I manage for friends. One of my friends ended up doing the same, and we started tracking our progress.
Who's this for?
We'd say Upleap works for anyone who wants to grow their Insta faster, but I'll stick to my guns and say it's really for people who have a "purpose" on Instagram. That means if you're a business, brand influencer, or want to grow your Instagram and eventually become an influencer  – Upleap is definitely for you.
Upleap Instagram Review – The Signup Process
Signing up for Upleap was an easy process. Once I clicked one of the big sign up buttons on their website, it prompted to fill in my email, first name, and then I chose a password. Straight away I received an email asking to verify my email address.
Afterwards, Upleap asked me to enter my Instagram username and password. I added these and then had to open up my Instagram app to confirm the login of my account manager. Afterwards, I received another email telling me that I had successfully set up Upleap and that Mia, my new Instagram account manager would get to work.
More Engagement with Upleap
When you sign up for an account on Upleap, you have to add a few hashtags and Instagram user accounts that are similar to your Instagram. I did some keyword research to make sure that my manager really knew what posts to like.
The posts my account manager liked were pretty much accurate. But, I can imagine that if you select the wrong hashtags, or aren't specific enough in your account description, your account manager may like posts that aren't specific enough to your niche. Even then, you should still grow your followers even if you aren't liking all the right posts.
In any case, it's important you curate your hashtags to describe your account properly! This seems to matter with Upleap. All four accounts that we connected didn't have any issue with engagement! Mia was great at getting our accounts more followers.
How Fast Upleap Grew Our Accounts
We noticed how fast your followers grow with Upleap depends on the type of Instagram account. Two of our accounts were picking up about 20 followers per day, Another one of our Instagram accounts was picking up 60 followers a day. Our largest Instagram account that we connected with Upleap has over 25k followers. This one was picking up 130 followers a day. Here's a snapshot of the growth we saw on our dashboard:
Admittedly, there's not too much to see on the dashboard Upleap provide. I assume this is because they're not automating anything, so it's more difficult to track. If you're an Instagram Business Profile, I'd suggest using Instagram's native analytics tool to help understand your growth with Upleap.
Comparing Growth: Without and With Upleap
You can see a comparison of two Mondays for one of our Instagram accounts. Both screenshots are for the same account. The red-lined screenshot is from the Monday before our Upleap Instagram review. The green-lined screenshot is the Monday after we started our trial period (we subscribed to their "Premium" Plan for this account):
As you can see, we didn't promote any of our posts or stories on Instagram in this period. We simply let our account manager engage with other posts. We saw an increase in followers across all hours of the day when using Upleap. Strangely, our peak hours were in the evening. This is most likely because our account manager works in a different time zone than us.
Is Upleap safe? Here's what people have to say

They've got a lot of people singing their praises on Trustpilot. Here's a few screenshots: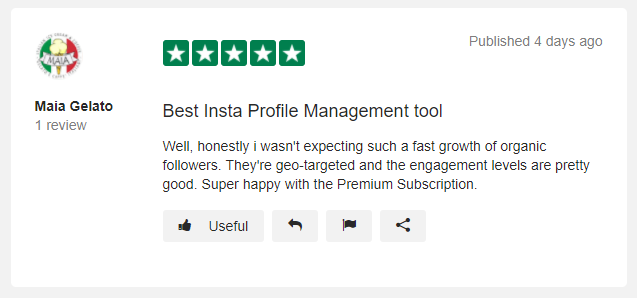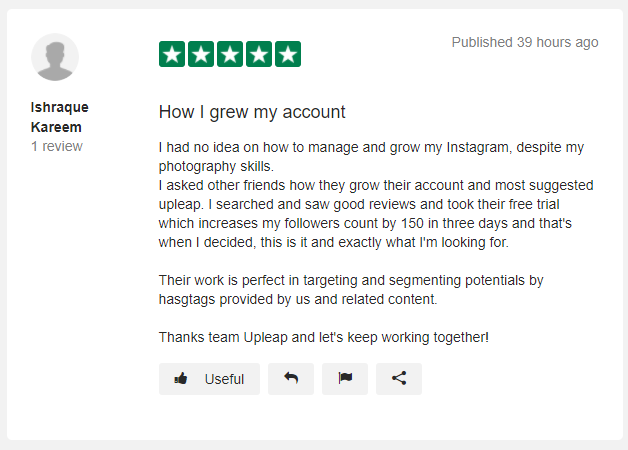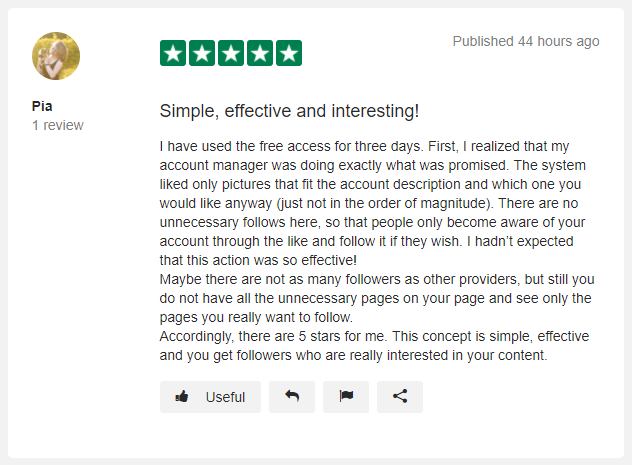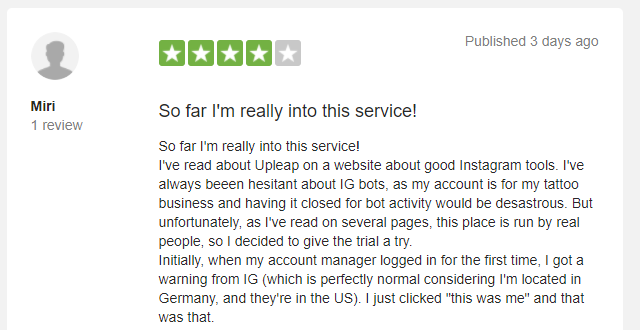 Concluding Our Upleap Instagram Review
If you want to grow your Instagram safely and with a real person, I really recommend at least trying Upleap. You can sign up for free by pressing this link. While your dashboard can look a little prettier (I hope they work on that!) – the growth I saw across four of our accounts was fantastic. It's especially encouraging to know that my account is being managed properly and by a real person. That's a real plus in my eyes.
To round off my Upleap Instagram Review – here's my final rating:
Macy's final verdict: 4.8 out of 5
Best Upleap alternative for professionals: Nitreo
Nitreo is not an agency. You don't get a personal account manager like with Upleap. But what it lacks in "personal touch" it makes up in technology.
Nitreo is a fully automated Instagram growth suite. If you are serious about growing your social media presence, it might be worth checking it out.
Unlike with Upleap, you get some advanced features here. Nitreo will automatically follow and unfollow relevant accounts, interact and engage with posts and stories and allow you to target your followers very accurately.
Nitreo doesn't have a free tier or even a free trial. It it used by Instagram professionals, agencies and some of the largest and most successful Instagram influencers. But the plans are actually not expensive (starting at only $29 per month), especially when you factor in all the features you get.
Want More Ways To Up Your Instagram Game?
Check out the top 5 best Instagram tools for 2018 that we've lined up for you! If you liked this article, please feel free to share it on Facebook, Twitter, or leave a comment for us!